While our church services are suspended our Agile sheet is replaced by a daily diary entry on our website homepage and the St Giles Church Graffham Facebook page. Please find below a record of diary entries during this time. Please see Thoughts for the Day on Sundays in the Worship drop-down menu for reflections each Sunday.
Friday 3 July
Dear friends, a churchwarden's stave or wand of office was originally a sharp pointed stick meant to prod misbehaving people and/or dogs in church. It must have been such a problem at St Giles that the pointed end has worn flat. You wouldn't think crowd control in church to be a problem any more. Guidance published for the reopening of places of worship includes so much about managing movement of people into, and in and out of church however that it seems it is. Though we hope the prodding of unruly worshippers will be unnecessary. For the time being, the stave has found a new use as a measuring guide for safe distance. When St Giles reopens for worship, please be assured of a warm welcome, a safe place to sit and much good humour here.
Please remember in your prayers all ministers of religion preparing to welcome people safely into their buildings for communal acts of worship again – thank you for a new plant spotted this morning!
Thursday 2 July
Dear friends, have you ever seen one of these? It's a reminder of the days when Pescods was the village shop, whose last shopkeeper was this community's beloved Roger Mosley RIP. I wonder how it was used and whether there are still any about in Graffham? Our archivist Robin would be pleased to know. We're thankful Graffham still has a community shop and shopkeepers who are equally appreciated, all the more specially just now. No trading tokens, no cash, 'trading' in credit cards now. Times change. Thankfully, community thrives here still.
Our prayers are for shop workers today, remembering those who face an uncertain future following restrictions and redundancy.
Wednesday 1 July
Community planter stage 2. Our rectory cranesbill is joined by Ginny's daisy, from day's eye because it closes up at night, and Ann's alchemilla mollis, known as Lady's Mantle. Said to be because its leaves were often used to decorate statues of the virgin Mary whose cloak was thought to resemble leaves. Alchemilla is derived from alchemy, the droplets on the leaves considered the purest form of water capable of turning base metals into gold. Ginny? That's from verginius, meaning spring-like, flourishing, and Ann is from Hannah meaning favour or grace. So rewarding when you dig a little deeper into words – just like people.
Tuesday 30 June
Dear friends, revealing the St Giles community planter by the South Door of the Church. The brilliantly simple idea is to create a tub of flowers through lots of people each planting one small plant from their garden. If the planter is filled, it will be lovely to have a visual expression of Graffham community spirit and imaginative creativity, in such a special place.
Monday 29 June
Dear friends, reflecting on the word lucifer this morning, fascinating in its way. Meaning light-bearer, from lux 'light' and 'ferre' to bear in Latin, and corresponding to phosphorus meaning dawn-bringer in Greek, it's the Latin name for Venus, the morning star. Brilliant. Except for this word's alter-ego as the fallen angel of Ezekiel and Isaiah, lucifer can be seen in an entirely positive light.
The wonderful person who transformed the patches of stony weedy ground outside the previously little-used West Door last week was undecided at first about planting his favourite Crocosmia Lucifer there. Paradoxically however, in showing such kindness as a gardener and making neglected holy ground beautiful once again, planting Crocosmia Lucifer is restoring this plant to its positive status as 'light bearer' once again, bringing light and hope into a dark place. So thank you so much for doing this, you are a (morning) star!
Saturday 27 June
Izzy has made a set of Happy Families during lockdown so the Barrett family has been playing the game a lot this week. The St Giles community is a large and joyous family that is unable to gather just now but it doesn't need to stop us feeling together. I have Photoshopped Izzy's cards below – even though you may have left the village Alan, Carole, Nanny and Larry you are still very much part of the family.
Friday 26 June
Dear friends, looking through my photo 'library' I've come upon this picture. I can't be absolutely sure but think it hangs in the church at Upwaltham. An expression of typical Victorian sentiment maybe, nonetheless distinctly appropriate to those of us dismayed just now by images of crowded beaches and disruptive demonstrations. Our church is open once again to light a candle and say a prayer, tomorrow Saturday from 2.30 to 4, then again next Wednesday morning from 9.30 to 11am.
A quiet Resting-Place, Whither beyond the wheels, the angry hum, Tired hearts will seek and souls the crowds have trod, Saying, 'The good Physician made me come For greenness, peace and tender gleams of GOD'
Thursday 25 June
Dear friends, up at the crack of dawn this morning. Study windows fully open to work in relative coolness before the expected heat of the day. Followed by an early morning walk along our usual route, and already feeling warm. We play a game of catch the butterfly (on camera) as we go along. The attempt brings to mind a song from my distant past, '..across my dreams, with nets of wonder, I chase the bright elusive butterflies of Graffham'. Though I don't catch any. Find a website 'Butterfly Conservation: Sussex Branch' when I get back, telling of 43 species native to Sussex. I hope this is a good year for them.
No butterfly pictures to go with my post, just a butterfly's eye view of the path's grassy edges – not at all elusive if I take time to look. I'll keep trying.
Tuesday 23 June
Dear friends, the weather is expected to reach 30 degrees today. Here are Betty's flowers as a reminder that the church will be open this morning from 9.30 to 11am, where it will be nice and cool!
Update following church opening today: thank you to those who came to church for prayer and candle-lighting this morning. It was indeed cool inside with plenty of fresh air from the open doorways, and it was good to see people. I did enjoy sitting outside in the sunshine to read as well. This may become a favourite time of the week for me!
Monday 23 June 2020
Dear friends, hearing news at last that church services can resume from 4 July, with a mixture of relief and trepidation. In the light of all that's taken place in church life since March, now we're being challenged 'to bring out of our treasure what is new and what is old'; rediscover the familiar while holding onto all that we've recently learned, and do so safely. Our church continues to evolve.
Waiting for each next step in lock-down key-turning has made me tired at times. I've been praying for resilience and endurance to adjust and readjust every time the guidance and direction changes. 'A bruised reed he will not break', say Isaiah and Matthew, suggesting that difficult experiences contribute to our resilience and endurance. Here's a picture of Graffham lavender, fenced in yet bravely flowering away. When you bruise these reeds, their fragrance fills the air. Encouragement for the future here.
Second Sunday after Trinity Sunday 21 June
See Worship: Thoughts for the Day for Sundays in drop down menu
_______________________________________________________________
Parish Lock-down diary Friday 19 June 2020
Dear friends, a day or so ago, under the choir stalls in the church, I found a penny. Does this happen to you sometimes, discovering an odd coin under the table or behind the sofa cushions when you're cleaning? I looked at this penny. I wondered who had dropped it. In a cashless society, this will happen less and less, I thought. I calculated we need a million of them to recover our parish finances. Acknowledged too, we're not alone with so many concerned about financial security. I put a glass jar on the table in church, and dropped the penny in, resolving to be a church worth supporting, caring for others however we can. It's important to be hopeful in all circumstances. We only need 999,999* pennies now.
*Just been promised another 24p!!
Parish Lock-down diary Thursday 18 June 2020
'Light a candle, say a prayer'
Dear friends, anticipated rain arriving a little later than expected, and with it the promise of spiritual refreshment. Delighted today to announce the reopening of our parish church. Listen for the bell announcing we are open and here. From this Saturday 20 June, St Giles Church will open again each Saturday afternoon from 2.30 to 4 for private prayer. Also for prayer from Wednesday 24 June 9.30 to 11 and alternate Wednesday mornings thereafter (to allow for cleaning days). Remaining closed between these times, to ensure people's safety on opening days.
Come to 'light a candle, say a prayer'. Stay just for a moment or for a while. Sit quietly here. Take in a peaceful, holy space that has served its community in solidarity through every kind of trial, and brought us through. It will do so again. You are welcome here.
______________________________________________________________________________________________________________________________________________________________
Parish Lock-down diary Wednesday 17 June 2020
Dear friends, a favourite early morning walk goes up the hill to the church, through Seaford College gates past West Lodge, sometimes as far as Wallace Square, then back through Lavington Stud. Might see other early risers like Angie, or Matthew and friends on a bike ride. A bit humid today, a walker passing us this morning agreed. Might rain later, he thought. Always enjoy the sight of mares and foals in the fields, and whizzing house martins round Calloways House. Struck (not literally) by fat green cones dripping with resin, on the magnificent tree by the entrance to the Stud opening out onto the Street. A tiny amount of resin on the end of my finger giving off a wonderful pine scent. A breath of fresh air to start the day.
_____________________________________________________________________________________________________________________________________________________________
Parish Lock-down diary Tuesday 16 June 2020
Dear friends, experienced a close encounter with a predecessor of mine in church yesterday. Not quite a ghost…or was it? as I knelt on the floor under a pew continuing my cleaning regime, a real voyage of discovery. I came upon a well-worn engraved text declaring in letters sometimes clear and sometimes obscure, 'Here lies the Body of Revd Edward West Rector of this Parish who departed this life April y 4 17.. Aged 60 years' Consulting the board listing previous incumbents of the parish, I discovered Revd Edward was my 22 x predecessor, instituted here in 1709 into a ministry lasting 33 years.
A little computer research revealed Edward held an MA degree from Clare College Cambridge approx 50 years after George Herbert*, the poet and writer of 'The Country Parson'. George's seminal work, published in 1652 describes the pastoral ministry of a rural priest. Perhaps Edward read it at the 'alma mater' they shared and brought it into his ministry in Graffham. Edward was also the Rector of Bignor until his death, though chose to be buried here.
I wonder what Edward, or George would have thought of the challenges facing pastoral ministry of Church of England clergy in 2020? They would have remembered the changes of earlier generations, the tumults caused, and how the church learned to adapt and deepen its understanding of what it means to be a faith community. We do well to remember this, and them, and re-imagine church in our own time according to the same principles – if not the same practices – that reach out in Christian love, in our generation.
*Our church's Pilgrim group are currently studying one of George Herbert's poems, called 'Prayer'.
___________________________________________________________________________________________________________________________________________________________
Parish Lock-down diary Thursday 11 June 2020
Dear friends, the simplest post from me today. This morning I opened an email containing a drawing from 7 year old William at Graffham Infants, 'especially for me'. It cheered me up enormously. Thank you William, I like it very much indeed. Here it is for you all to see.
_____________________________________________________________________________________________________________________________________________________________
Parish Lock-down diary Wednesday 10 June 2020
Dear friends, my church cleaning duty has added urgency if it may be preparing for a real opening for prayers in church. Yesterday the West Door, previously little used was given a good vacuum over. It's a great way to take a good look at church features. I appreciated the craftsmanship of the blacksmith elaborately fashioning the ironwork of the door into sinuous flower forms, decorating for the sheer pleasure of it. He (I expect it was a he) was making it really special as the entrance to God's house. It reminded me of Bishop Thomas Ken's prayer (1637-1711).
O God,
make the door of this house wide enough
to receive all who need human love and fellowship,
and a heavenly Father's care;
and narrow enough to shut out
all envy, pride and hate.
Make its threshold smooth enough
to be no stumbling-block to children,
or to straying feet,
but rugged enough
to turn back the tempter's power:
make it a gateway
to thine eternal kingdom.
Amen
I hope we can soon open our church door to welcome any who wish to draw close to God in prayer here.
____________________________________________________________________________________________________________________________________________________
Parish Lock-down diary Tuesday 9 June 2020
Dear friends, a message on my computer this morning from our archdeacon via the rural dean, saying the bishop will be sending details tomorrow about churches opening for private prayer. Bishop Martin wants to emphasize right away however that this is an individual decision for churches depending on local circumstances.
We're mindful of the significance of prayer in negotiating troubled times, how important it is for people to pray in church and how much this has been missed over the past three months. We will read and consider the bishop's letter carefully however, keeping people's safety at the forefront of any decision-making.
Once this has taken place, we will let people know what is possible for St Giles' church in Graffham.
Please pray for all those responsible for deciding what's right for places of worship and communities concerning the reopening of churches and other religious buildings for prayer. And for those who continue to be vulnerable in our society as it gradually reopens to public life. Amen
As promised, here's another gorgeous bird chalk drawing from William at Graffham Infants.
_________________________________________________________________________________________________________________
Parish Lockdown diary Monday 8 June 2020
Dear friends, thank you to all the Pilgrims who wrote reflections last week. Pilgrim meetings are normally hosted by Jane Pickering whose kind hospitality is very much missed at the moment. By way of a postscript, here's a final reflection by Jane.
God's world is our classroom, an endless lesson in a process of spiritual growth…nature is a great open book where everything can be found, and healing benefits from this abundant source have helped so many of us during this time. As part of my own study throughout I have been following a little book of daily devotionals 'Jesus Calling' by Sarah Young. I am thankful for so much and hope that others will find love, healing and peace with God.
Through 'Forest School', our infant school children discover the benefits of nature too. They are spending as much time as possible outdoors at the moment for their health, well being, education and safety. William has made a brilliant chalk drawing on the infant school playground. Here it is for you to see. Look out for another tomorrow as well.
We continue to pray for our schoolchildren and their teachers and families. Pray too for all who engage in lifelong learning, with senses open to the wonderful lessons our natural environment affords.
____________________________________________________________________________________________________________
Parish Lockdown diary Trinity Sunday 7 June 2020
Thought for the Day for Trinity Sunday
Trinity Sunday is a day clergy fear the most, so they say. When they attempt to explain how God can be three persons while still remaining one God. Because I don't have a logical, scientific kind of mind I'm perfectly happy with the mystery of it all; so my apologies to you if your faith hinges on such explanation. Jesus commissioned us to make disciples, not analyse him, and a disciple is just somebody seeking a relationship with God, which comes about fundamentally through prayer. So instead of an explanation of the Trinity I offer a prayer.
O Lord our God, help us to know you when we pray. Help us to know you as the one to whom we pray; help us to know you as the one with whom we pray; help us to know you as the one in whom we pray. Help us to know you, and to love you, and to live our lives for you, with you, in you, One God in three, Holy Trinity.
________________________________________________
As we pray, we are here and God is there, beyond us, around us, above and below us, so we pray from us to God. As we pray, we are here and God is beside us, praying with us, intimately supporting us, so we pray in companionship with God. As we pray, we are aligning our prayer with God's loving purposes, entering God's very heart in prayer, so we pray within God. In all these dimensions we meet God, in mutual recognition, in 'personal' relationship. So no explanation by me is needed really, each person discovers God's personal nature as revealed to them in prayer for themselves.
We may soon experience that personal relationship with God through prayer in our churches again. I look forward to it. Amen
___________________________________________________________________________________________________________________________________________________________
Parish Lockdown diary Saturday 6 June 2020
Post by Ginny Barrett reminding of live-stream Eucharist for Trinity Sunday on St Giles Church Graffham Facebook page tomorrow at 10.30am
Graffham Arts Festival should have started today so when Revd Vivien said,
"Ginny would you please remind people about the online service tomorrow at 10.30 am and please find a picture to go with it. How about another picture of a dog? People like dogs."
I turned to my arty Izzy and said,
"Would you please draw a His-Master's-Voice type of picture of a dog tuning into Revd Vivien on Facebook."

A few minutes later I had this.
Guinness will be tuning in, will you?
__________________________________________________________________________
Parish Lockdown diary Friday 5 June 2020
Reflection by Ann Brown on Clap for Carers in Graffham
Just before eight o'clock every Thursday evening we have been joining millions in this country by standing on the road outside our house to clap for the NHS. It is a wonderfully unifying feeling which links us with a whole nation to show our appreciation for everyone working for the NHS. That is the big, huge picture but actually as we stand in Graffham it is much more local. Out comes a bottle of wine, personal glasses, the wall serves as a social distancing bar and about nine of us gather to chat, share news and really have a tiny party. We can see other friends down the road and we wave and leap about in the road (well I do!). We can hear saucepans being clanged, a drum being banged and distant clapping. We have clapped for all those who serve us personally; Carmine the postie, the refuse collectors and of course Jeeva.
Two weeks ago right of the blue we heard a church bell. It was the most welcome sound of all reminding us that St Giles still stands at the top of the hill waiting for our return. Rev Vivien was inside ringing the Sanctus bell. It must have been her as she is the only one allowed in so we also thank her for keeping us all in her prayers and her concern for us all until the crisis ends.
Last week was the last time we would join in this little ritual but we began to consider meeting in our gardens, spread out of course and a household at a time. The neighbourly ties that have been strengthened for the last ten weeks or so will not fade. The Sanctus bell rang again, one day to be joined by all the other bells.
Note from Revd Vivien Transferred to Sundays at noon, the Sanctus bell will continue to ring out in Graffham as a sign of hope and community until our bells return.
_____________________________________________________________________________
Parish Lockdown diary Thursday 4 June 2020
Reflection from Fiona Mackie, recently moved from Edinburgh to Graffham
After a frenetic few months moving from city to country, the lockdown has given me an invaluable opportunity for reflection and meditation whilst enjoying this beautiful corner of West Sussex. Uninterrupted skies, together with nature at its very best, colours beyond imagination and peace and tranquility in abundance. However, I do remain mindful of the privileges we have here and those who are struggling and trying to cope in a more urban environment, never forgetting those who are putting themselves on the front line to keep us all safe. Hopefully, all our actions in the future will bring more patience, respect and thoughtfulness for others. I look forward to the day when we can all come together again at St Giles.
From Scottish thistles to English roses…Welcome to Graffham, Fiona and Chris, we hope you will be happy here!
___________________________________________________________________________________________
Parish Lockdown diary Wednesday 3 June 2020
Reflection by our parish treasurer, Yvonne Butterick
An opportunity to simply BE
Over the past number of weeks so many people have been asking "What am I able to DO during lockdown? What should I be DOing? What are you DOing?" There has been a great deal of trying to make things happen, getting things done, an eagerness to be active and involved.
As someone who finds it all too easy to find things to DO I can resonate so very easily with this approach. Naturally, I am inclined to be DOing something, filling every moment both physically and mentally.
Finding time and space is something I have to work at, to be still, to avoid pushing myself, dropping self-centred habits and expectations. I am using the Lockdown as a positive experience to try and develop insight, loving kindness and compassion: to be a human BEing.
________________________________________________________________________________________
Parish Lockdown diary Tuesday 2 June 2020
Reflection today offered by artist Sue Hill
In this surreal and forbidding situation l almost feel guilty for the peace l have discovered.
We are usually threatened with full diaries and obligations and an empty diary brings a chance to just drift or choose different options. Even our watches have become an irrelevance.
People have been calmer, more open kind and generous and hopefully we can build on this. Every day is full of the ups and downs of the news and it's hard to believe that it's the same for the whole world. We are fearful but hope we may restore our human connections and better, more thoughtful lives eventually.
I miss my family and pray for them and all of us every day.
_________________________________________________________________________________________________
Parish Lockdown diary Monday 1 June 2020
An extract from "Lockdown: a perspective – looking back on Spring 2020" by Ginny.
Spring 2020 brought interesting times where we all settled into an indeterminate period of lockdown. For us as a family lockdown started on St Patrick's Day when a child developed a cough and a temperature. The illness was mild and went around the family but isolating ourselves completely took a bit of getting used to and although a series of volunteers offered early on to get each other provisions there were some teething problems with the system and one week in we found ourselves going without. We were lucky, we had the essentials, but it was at about day ten with great delight that one afternoon a dear friend from Ambersham brought around a pizza and a bottle of Coke and carefully left them in a bag in the middle of our drive.
Thank you, thank you; and even though I would almost never crave pizza and Coke it was JUST what the doctor ordered.
Here's Guinness keeping watch for the next delivery. Hope comes in many guises and is in us all.
_____________________________________________________________________________________________________________________________
Dear friends, and especially dear Alan and Carole, wishing you both every blessing as you are transplanted into new ground and to remind you, as if you needed it, that you take all the love of Graffham folk with you. God bless you in your new home. We shall miss this sight…!
____________________________________________________________________________________________________________________________________________________________
Reverend Vivien's Lockdown diary Sunday 31 May 2020
Dear friends, today its the birthday of the Church, a time for celebration. To celebrate recently in Lurgashall, people have been able to order takeaway 'lock-tails'. One imagines this Sussex village travelling through lock-down in a gentle alcoholic haze. This might be considered understandable. We've all suffered a cocktail of experience unlike anything we've seen before.
We have to deal with it somehow. The world, the Church has been shaken; all our plans, our suppositions, expectations turned upside-down. Now, our country begins to sip familiar life again. We are entering dangerous territory. It's a time not to be shaken, but stirred.
Pentecost is a time for this; time to celebrate God the great Mixologist making a cocktail of people filled with new wine and infused with Holy Spirit. God calls this cocktail Church. It's powerful stuff, a potent mix of faith and hope and love and confidence and endurance, sparkling with inspiration, and we are called to drink deep of it.
We're discovering there are new ways to serve this cocktail, and we'll do so for as long as it takes, to bring about a world restored to hope.
As the Italians say, Sante, health! Amen
Holy Spirit, sent by the Father, ignite us with your holy fire; strengthen your children with the gift of faith, revive your church with the breath of love, and renew the face of the earth, through Jesus Christ our Lord Amen
__________________________________________________________________________________________________________________
REVEREND VIVIEN'S LOCKDOWN DIARY Saturday 30 May 2020
Dear friends, possible thoughts in children's minds this half term; 'It's not fair, why can't I go back to school, I want to see my friends.' or 'I'm scared to go to school. They told me it was dangerous so I had to stay at home, and now they want me to go back there.'
It's the same for all of us. We don't want to be in isolation for ever. We want to see our friends. It's important ultimately for our emotional well-being that we do. It's risky though, which makes it scary.
Having come to terms with lock-down, Its not surprising if we feel anxious about it all. When we step outside our homes to go elsewhere, anywhere, we put ourselves in others' hands. We entrust ourselves to those venturing out like us, and those responsible for ensuring our new environments, shops, workplaces, maybe one day churches, are positive and safe. The more trustworthy and responsible we all are, the safer we all will be. It's the biggest challenge yet that our society will face.
Lord, you call us to love one another, and not to be afraid. Give us responsibility and determination to keep each other safe and well, in a world which needs to be active, for everyone's sake. Amen
Tomorrow a live-streamed Eucharist for Pentecost from the Rectory study is offered at 10.30am. You will see a photograph on this Facebook page. Please wait and the service will begin. And each day next week, members of the 'Pilgrim' group from our church will be offering reflections on their personal experiences of lock-down. We hope you enjoy.
_____________________________________________________________________________________________________________________________________________________________
REVEREND VIVIEN'S LOCKDOWN DAILY DIARY Friday 29 May 2020
Dear friends, a special thank you today to the person who left strawberry plants by the side of the street in Graffham this Easter for people to take. I took two and have enjoyed planting and watering and watching them thrive in the sunshine, outside the Rectory patio door. Today I picked the first two berries for us to eat with our breakfast this morning. They were beautiful, fragrant and delicious, as you can see! So thank you whoever you may be, for giving such pleasure with your kindness. We have very little idea sometimes of the impact we have on others, far beyond what we imagine.
PRAYER FOR TODAY
Thank God for the kindness we receive, for the opportunity we have to offer it, and the great blessings it brings. May we take time to consider how to show kindness to others today; even in lockdown, there will be a way. Amen
_______________________________________________________________________________________________________________________________________________________
REVEREND VIVIEN'S DAILY DIARY Thursday 28 May 2020
Dear friends, the Parochial Church Council of the Parish of Graffham with Woolavington met yesterday evening via Zoom. It's a rather grand description for a group of local people seeking to be a church that's alive and active in challenging times. We're searching out new ways to serve this community and beyond, continue to worship together using new technology and care for our historic church building within present restrictions. And enlist support following the loss of Sunday collections, social fundraising activities and fees. It's a tall order, though we're not dismayed, as Isaiah directs us: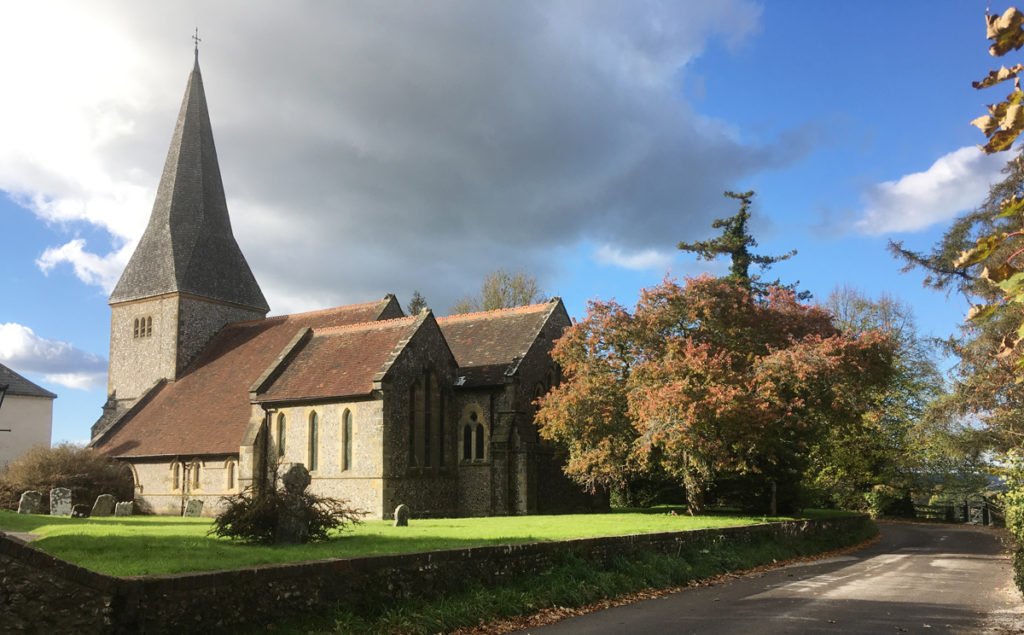 Please pray for Parochial Church Councils here and across this country; small groups of Christians finding new ways to love people through one of the greatest challenges we face, and keep their churches going. We do so in good company, the Lord our shepherd travelling alongside us through every challenge and trial. Amen
________________________________________________________________________________________________________________________________________________
REVEREND VIVIEN'S DAILY DIARY Wednesday 27 May 2020
Dear friends, a rather special pansy in the Rectory garden is blooming away gloriously at present, reminding me of a special occasion recently in our church. The word pansy comes from the French 'pensee' meaning think or remember. The children of our church preparing to share in communion for the first time each took a pansy home to remind them remembering Jesus' command to 'do this in remembrance of me' is an important reason we share in communion. When I see my pansy flowering, I think of them and the happy service this February when we all shared in communion for the first time. Now we must do this spiritually and wait to share physically for another time. We can still remember though, and be thankful, wherever we can.
Pray for the children of our church and community. Give thanks for their deep spirituality, openness to being loving, and trusting nature. May we never betray our children's trust, may we depend on them rather, to show us how to open ourselves to loving you. Amen
____________________________________________________________________________________________________________________________________________________________
Tuesday 26 May 2020
Dear friends, not only do I go to church now to clean, pray and occasionally ring the Sanctus bell, I go to SING! Singing is good for us in so many ways, the acoustic is excellent in church and I feel like I'm defying all the restrictions hemming us in by singing there as loud as I like. I'm working my way through the hymns in the hymn book under the Ascension tide heading, just one each time I say my prayers, but I can't help singing 'Teach me my God and King' while I scrub the floor '..who sweeps a room, as for thy laws, makes that and th' action fine…'.
It's not my favourite hymn. That's 'Eternal Father, Strong to Save (for those in peril on the sea)', though it's a very good one at the moment. Do you have a favourite hymn or two? If so, do list them in the comments under this post. We may not be holding a Songs of Praise just now, but it would be good to draw up a list of hymns to sing, for when we do. Being forward-looking is good for us too…!
Thank God for our voices and the power to sing to give us freedom and pleasure. Pray for choirs who are missing the opportunity to sing together, and virtual choirs who are singing anyway. Give thanks for those who are finding ways round the limitations placed on us, and doing things in new ways.
Not a choir exactly, though a goodly body of Graffham folk filling the choir stalls beautifully on a happy day some time ago.
__________________________________________________________________________________________________
Our weekly pew sheet 'Agile at St Giles' provides information about all services and events happening during the week and further ahead. It is distributed at services and can be found in St Giles Church and All Saints Chapel when these places of worship are open again.